New Land Rover Defender Preview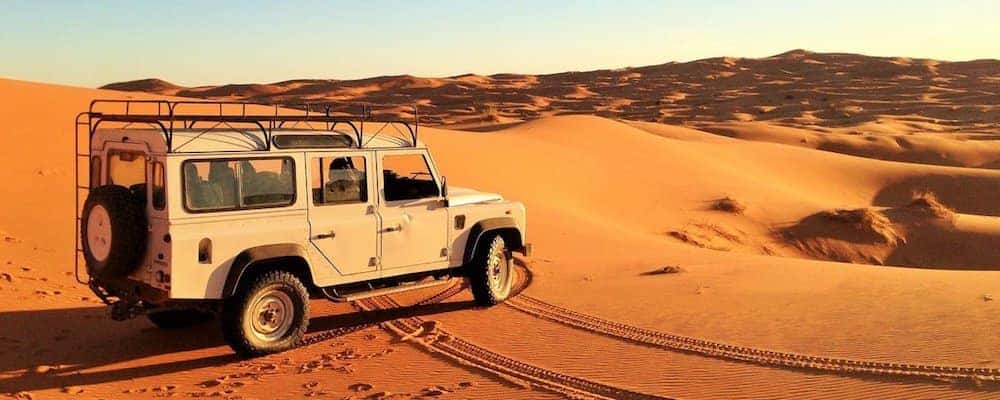 We couldn't be more excited that a new Land Rover Defender has been announced for the 2020 model year, and Land Rover has been generating buzz for this new model with the clever #BEST4X4XFAR campaign. While its release date is still a ways off, find out what we know so far about the resurrection of this classic Land Rover legacy at Land Rover West Chester near Philadelphia, and reach out with any questions!
What Will the 2020 Land Rover Defender Look like?
This new model is anticipated to have independent suspension, and will possibly offer a two-door version in addition to the four-door style. Based on the most recent spy shots of the new Defender prototype, it will have a fairly even balance of the original Defender style and modern Land Rover design.
Throwback Defender Design
The first Defender (then called the Land Rover One Ten) was originally released in 1983 with a classically 80's angular design and rounded headlights. Some similarities that the new Defender shares with the original at the current stage in its development include:
Boxy design and thick roof
Sharp corners and 90-degree angles
Flat hood and sides
Short front and rear overhang for better off-roading on steep angles
Split rear hatch, with top swinging up and bottom swinging to the side
Many speculate that this split hatch is designed to accommodate a spare tire like would see on a Jeep Wrangler–another classically-styled adventure vehicle.
Modern Design Elements
Curved windshield and curved front grille and bumper
Less pronounced A-pillar separation
Grille design and rectangular headlights similar to current Range Rover
Side panels transition with seamless curving into the fender flares
Land Rover Defender News
An Engineering Feat
This October, the Land Rover Classic team demonstrated their prowess by fully assembling a one-of-a-kind soft-top Land Rover Defender over just four days. This all happened in a display window of the Selfridges on Oxford Street in London, in full view of shoppers, and the Defender is now a centerpiece in the store. Selfridges department store is famous for its elaborate and show-stopping window displays, so it was a fitting stage for the assembly of a Defender.
#BEST4X4XFAR
The best way for Land Rover fans to get the latest Land Rover Defender news and updates is to follow the #BEST4X4XFAR hashtag on social media like Instagram and Twitter. 2020 might seem far away, but you can satisfy your curiosity in the meantime!
Explore the Land Rover Legacy at Land Rover West Chester
Learn more about the Land Rover brand at Land Rover West Chester, and browse the current Land Rover models for sale to find one to take home to Exton or Chester Springs.
More From Land Rover West Chester
Are you searching the Philadelphia area for a premium SUV that's perfect for weekend getaways, off-roading adventures, and your daily commute? Come and check out the different 2023 Range Rover Velar configurations at Land Rover West Chester! This top-tier SUV offers thrilling performance, smooth handling, and advanced technologies to make your drives more enjoyable. We have your…

When you need a powerful SUV for your daily commutes and drives beyond the Exton area, no other vehicle has your connected and protected like the new Range Rover Evoque for sale at Land Rover West Chester. What is the 2023 Range Rover Evoque price? The entry-level Range Rover SE has a starting price of $51,000 MSRP. …

If you're searching for a luxury SUV with interior features and luxurious amenities, your next crossover SUV should be the new Range Rover Velar for sale at Land Rover West Chester. Explore the 2023 Range Rover Velar seating capacity, dimensions, features, and more with this handy guide with Land Rover West Chester. After learning what's inside the 2023 Range Rover…