Land Rover Dashboard Warning Lights Explained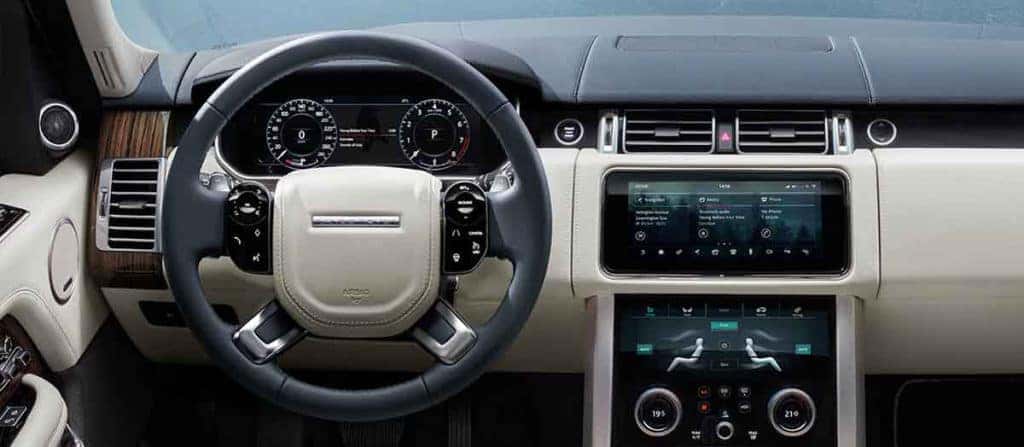 Your Land Rover vehicle's dashboard is a hub of activity, from the gas gauge to the speedometer to the warning light panel. You know what to do when the needle nears empty or when the speedometer starts to exceed safe limits, but do you know what to do when your Land Rover Discovery dash warning lights light up? Get to know some of the most common Land Rover dashboard warning lights and learn what to do when they appear, then learn more about how to check for things like tire tread depth while on the road!
Air Bag
This amber symbol, which looks like an inflated airbag, turns on briefly when you first switch on your vehicle's ignition. It typically turns on after a few seconds. If the symbol illuminates while you're driving, this signals that the airbag may have malfunctioned. Contact your local dealership or serviceperson as soon as possible to address this critical safety feature.
Auto High Beam Assist
If you're driving a new Land Rover, there's a good chance that it comes equipped with safety features like Auto High Beam Assist. When you select this feature, it automatically turns on your high beams in the right driving conditions. You'll see this green light illuminate when Auto High Beam has turned on your vehicle's high beams.
Automatic Speed Limiter
When you've enabled the Automatic Speed Limiter feature, you'll see an amber symbol that looks like a speedometer atop the text "LIM." This feature allows you to establish a top speed for your Land Rover, which can help you avoid speeding tickets and unsafe driving speeds. When you deactivate this feature, the symbol will simply turn off.
Battery
When you first switch on the ignition, you'll typically see the red battery warning light turn on briefly. As soon as the engine fully turns on, however, it should disappear. If this light stays on for more than a few seconds or if it turns on while you're in motion, this is a sign that there's something wrong with your battery. Get professional assistance immediately, since your vehicle's battery might not be charging properly.
Brakes
If you see the brake warning light, which simply reads "BRAKE," this signals that your vehicle's brake fluid has dipped below a safe level. Since low brake fluid can significantly compromise or eliminate your ability to stop your vehicle safely, you'll want to pull over to top off this fluid as soon as possible. If the brake warning light continues to stay illuminated, your vehicle might have a more complex brake problem that requires professional assistance.
Critical Warning Message
A triangle with an exclamation mark in the middle signals that your vehicle has a general warning message to deliver. If the symbol appears red, it's a critical message that you should address right away. As soon as it's safe, pull your vehicle over and bring it to a complete stop before accessing the message center. Depending on the message, you might need to have the vehicle serviced right away.
If the warning symbol appears amber, this signals that the message is more general and less critical. Access the message center at your earliest convenience, and contact your local service center for assistance if necessary.
Dynamic Stability Control
If your vehicle has the Dynamic Stability Control feature, you'll see an amber symbol that looks like a vehicle with skid marks when the feature is active. If the system encounters a problem, you'll see a message indicating that in your vehicle's message center.
Engine/Transmission
The engine/transmission symbol, which looks like an engine, generally lights up when you turn on the ignition. If it stays on or if it turns on while you're driving, this signals that your engine has a problem with emissions. Though you can continue to drive your Land Rover when this amber symbol appears, its performance might suffer. Take it to your service center to address the issue at your earliest convenience.
Engine Temperature
This symbol looks like a thermometer and always appears red when illuminated. It's typically accompanied by a text-based message that reads "ENGINE OVERHEATING." This Land Rover warning light indicates that your vehicle's engine has exceeded a safe temperature level, and you're in danger of permanently damaging your vehicle. To prevent irreparable damage, stop the vehicle as soon as you have the opportunity to do so safely. Turn off the engine and contact your dealership before operating the vehicle again.
External Temperature
This symbol, which looks like an amber-colored snowflake, indicates that outdoor temperatures have dropped close to or below freezing. Since there may be ice on the road, take additional care when driving.
Forward Alert
The Forward Alert symbol looks like a vehicle surrounded by a triangle. When this symbol appears green, the Forward Alert feature is active, which means your Land Rover will alert you when you cease to maintain a safe distance from vehicles in front of you.
Hill Descent Control
When you've selected your Land Rover vehicle's Hill Descent Control system and you're traveling down an appropriately steep hill, this green light will illuminate on your dashboard. If you select the system but you're not driving in the right conditions, you'll see this light flash briefly.
Lane Departure Warning
If your Land Rover is equipped with the Lane Departure feature, you'll see this warning lamp when your vehicle inadvertently veers out of its lane. You'll also feel the steering wheel vibrate to indicate that you've crossed a lane marking. To stop the warning, simply steer back into your lane or use the turn signal to change lanes safely.
Oil Pressure
The oil pressure light, which looks like an oil can, signals a problem with the oil level in your vehicle. No matter if this symbol lights up briefly or if it stays on for several minutes, it requires immediate attention. Pull your vehicle over and turn off the engine as soon as possible. Check the oil level and add more if it's too low. Once you've topped off the oil, try turning on your Land Rover again. If the oil symbol still illuminates, it may be time for a full oil change, or you can seek assistance from your dealership for an inspection before driving further.
Tire Pressure Monitoring System
This symbol, which looks like a flat tire and an exclamation mark, illuminates yellow to alert you when one or more tires has lost pressure. Since low tire pressure and underinflation can lead to accidents and unsafe driving conditions, pull over your vehicle as soon as possible. Access the accompanying alert in the message center, and re-inflate the affected tires as necessary.
If the Tire Pressure Monitoring System light illuminates repeatedly, you might have a flat tire. If the light flashes, have the monitoring system addressed by your local dealership.
Trailer Turn Signals
If you're towing a trailer, you'll likely want to install turn signals on the rear to make the trailer as safe as possible. When you hook up the turn signals to your Land Rover, you'll see the green Trailer Turn Signals turn on momentarily when you start the vehicle. You'll also see the light flash when you use the turn signals.
Now that you know the meaning behind the major dashboard warning lights, don't neglect to handle the most critical issues right away. By doing so, you'll ensure that your Land Rover stays safely on the roads of West Chester for as long as possible. Schedule service with Land Rover West Chester to stay on top of your vehicle's maintenance schedule, and contact us if you have any other questions, like how to reset the tire pressure light! If it's time to get your next Land Rover, compare pre-owned vs. certified pre-owned Land Rovers and their benefits.
---
More from Land Rover West Chester
If you're like a lot of West Chester drivers, you need an SUV that will do more than look good on your morning commute. You have a boat or camper to tow. Then the new Land Rover Defender might be the vehicle for you. How much can the Land Rover Defender tow? We are glad…

There's a lot for West Chester drivers to love about the SV version of the Range Rover Sport. It's got a powerful, precision-engineered engine that can crank out over 600 horsepower, as revealed by the impressive 2024 Range Rover Sport SV specs. What really sets this model apart from the rest of the line are…

The 2024 Land Rover Defender continues its reputation as being a rugged and capable 4×4 vehicle. Whether you're off-roading or driving on your commute in Philadelphia, the Defender is the vehicle that will withstand whatever terrain and conditions you throw at it. But is the 2024 Land Rover Defender good on gas? Fuel prices…